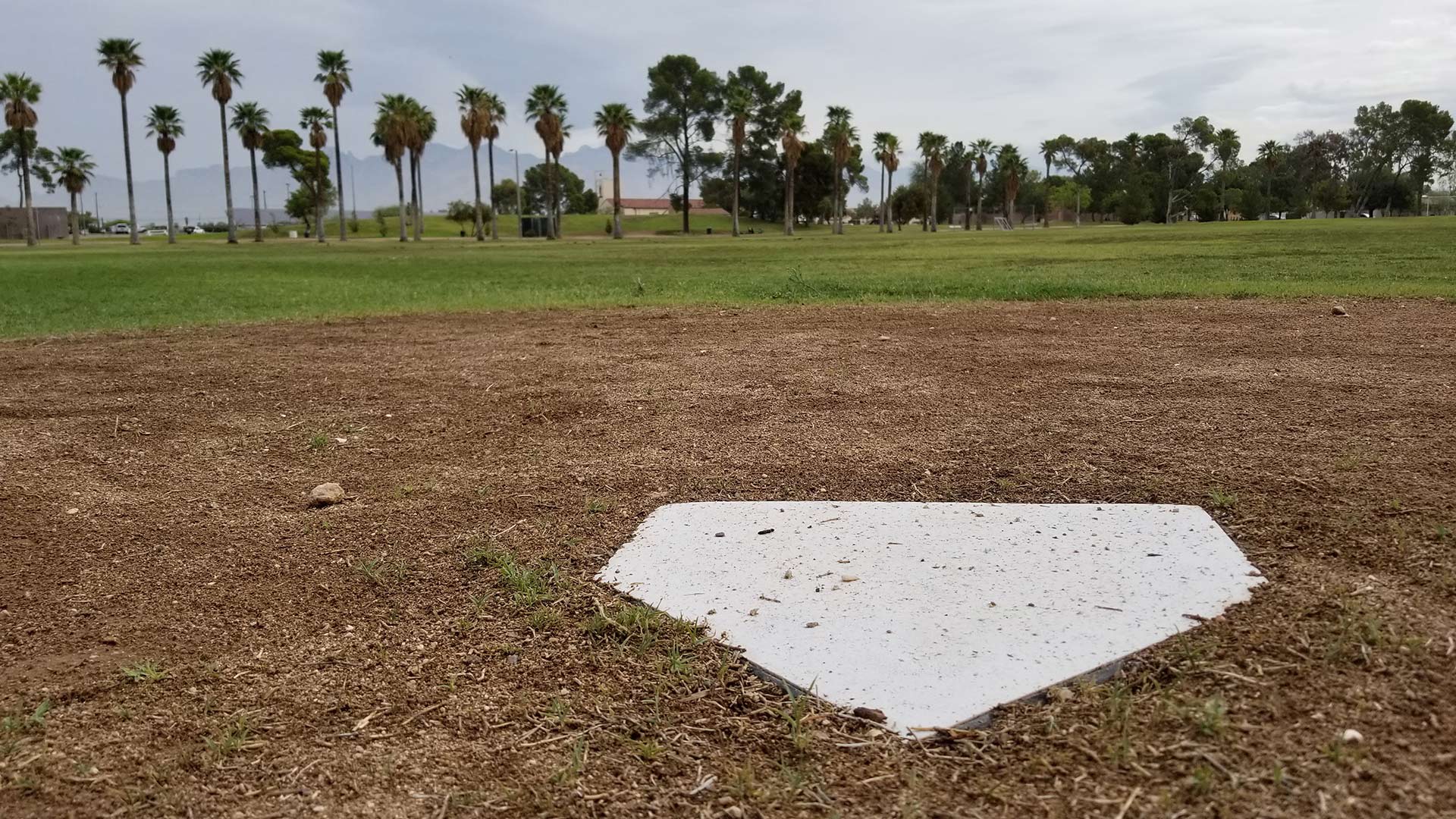 Behind home plate on a little league baseball field at Himmel Park. From July 2018.
AZPM
The grass in the outfield is mowed. The infield is groomed. Baseball season is back.
This year, those things mean a bit more because in 2020 the sports world and everything else was turned upside down by the COVID-19 pandemic.
Sports is big money.
In Tucson, the Kino Sports Complex is one of the premier places to play. It's home to baseball tournaments, soccer tournaments and pickleball. But Reenie Ochoa, the director of the complex, said the newly renovated facilities emptied almost overnight a year ago.
"We had a number of big events, small events, all sorts of local and out of state events," Ochoa said. "And needless to say, that put the brakes on everything there."
The shutdown was a big blow to Kino's finances, which rely on facility rentals, concessions and ticket sales.
The complex reopened with mitigation protocols three weeks ago, after closing due to the spike in COVID-19 cases this winter, Ochoa said.
Those fields are not the only sports venues in the area. Helping book tournaments and events into all of those places is Visit Tucson. Dan Gibson is the group's senior director of communications, and he said getting hotel rooms and arenas filled during the pandemic meant a change in Visit Tucson's pitch.
In the fiscal year before the pandemic, sports amounted to $24 million in economic impact, Gibson said.
He said leisure travel is bouncing back as more people get vaccinated, but large events are still high risk during the pandemic.

"It's still this waiting game of when people feel secure to have a large event," Gibson said.
Not all sports in southern Arizona are professional leagues or tournaments. There is also youth sports and they too are getting going again.
The Tucson chapter of the American Youth Soccer Organization kicked off its spring season last week. All players, coaches and attendees must wear face masks at all times and maintain social distance when not on the field.
Youth baseball is here, too. The new Empire Little League combines the old Santa Rita and Pantano leagues. Practice began last week with the first games scheduled for the week of April 12.
Sports at local high schools are also underway.
---
Tucson Roadrunners player Tyler Steenbergen says its great to have fans back in the stadium after almost a year.
Tucson Roadrunners
A growing number of fans are being allowed back into the Tucson Convention Center to see the Tucson Roadrunners, the area's professional hockey team. Roadrunner Tyler Steenbergen is excited to have fans in the stands again. He said playing in front of empty seats reminded him of when he first took to the ice.
"We're used to the loud crowds anywhere we play, so I mean it kinda felt like back in the day when you're playing minor hockey at a young age and everyone's parents are there," Steenbergen said.
While the team tried pumping in fake crowd noises earlier in the season, Steenbergen said it just could not match the energy of real fans.
---
Major league spring training in the metro Phoenix area, known across the country as "the Cactus League," usually brings in big crowds and big money from locals and tourists.
Anthony Evans is a researcher at the Seidman Research Institute at Arizona State University's W.P. Carey School of Business. He led a team that compared the economic impact of out-of-state visitors attending spring training in 2018 to last year's COVID-shortened spring training.
He said spring training has a statewide financial impact that touches many parts of the economy.
"On an average season you can have around 1.6 to 1.7 million ticket sales for the games alone," Evans said. "There's a large chunk of dollars flowing to accommodations, food services, retail, people actually traveling to other parts of the state. All of these things add up."
Spring training contributed $373 million to Arizona's GDP in 2018, while the shortened 2020 season saw a contribution of $213 million.
Despite the return of some fans, all sports are facing a tough financial road again this year. Professional hockey and basketball are making their playoff runs now in front of limited fans. Baseball is opening with restrictions on fan numbers, and even if the ballpark was wide open all the seats might not be filled.

A poll out this week from the Washington Post and the University of Maryland said less than half of Americans are comfortable with the idea of going to a live, ticketed sporting event.

The Buzz
airs Fridays at 8:30 a.m. and 6 p.m. and Saturdays at 3:30 p.m. on NPR 89.1. You can subscribe to our podcast on
iTunes
and NPR One. See more from
The Buzz
.