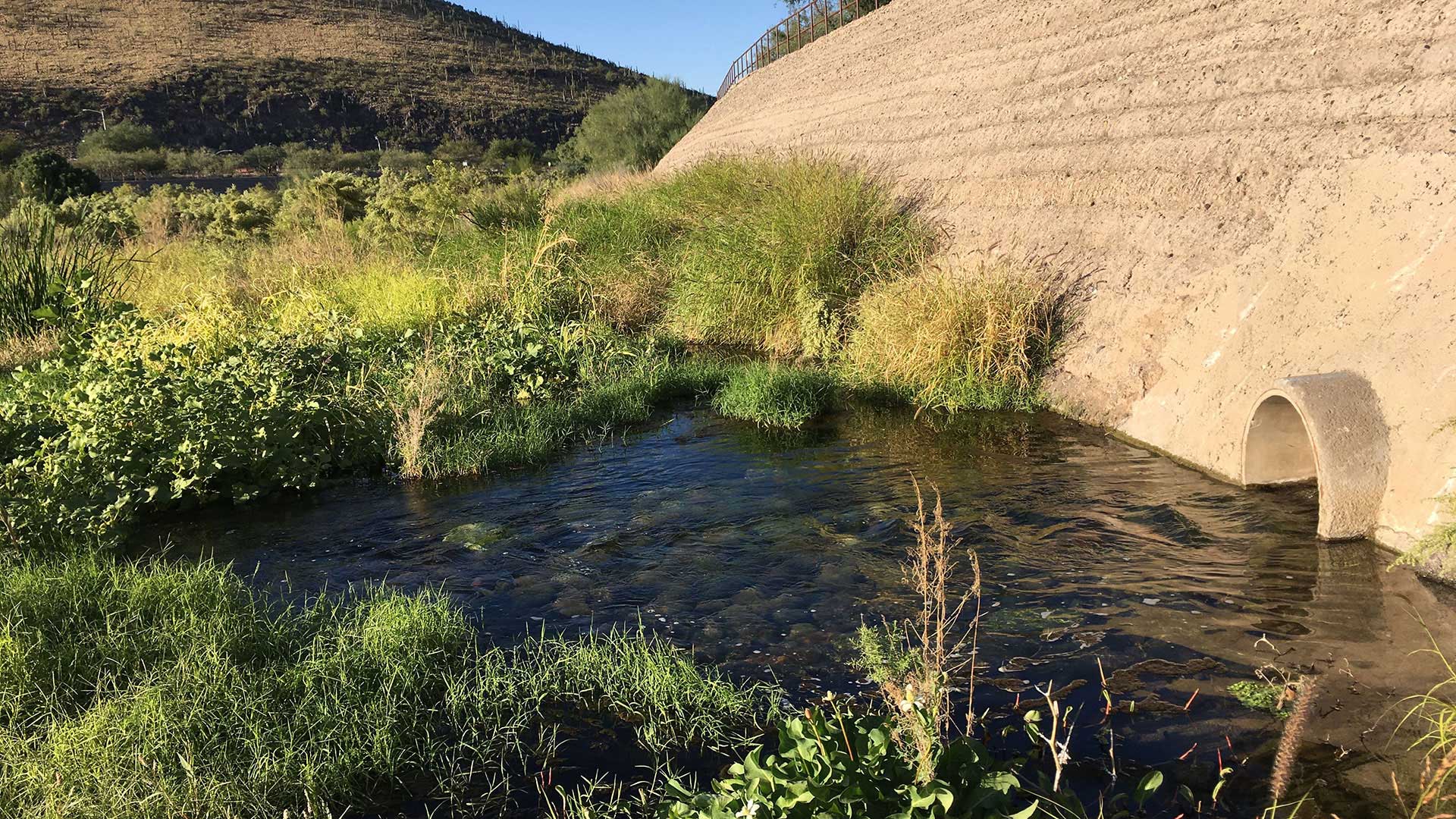 Since late June 2019, Tucson Water has been recharging treated wastewater into the dry channel of the Santa Cruz River, creating a riparian oasis.
Ariana Brocious/AZPM
The state of Arizona is paying to restart a water treatment plant near Tucson's airport. When the plant resumes operation, however, it will no longer be contributing to the city's drinking water system.

The city built the Tucson Airport Remediation Plant, or TARP, in the 1990s to remove cancer-causing chemicals called TCE, and in the last few years it's also been removing a different set of chemicals, called PFAs, a remnant of firefighting foam.

The city recently shut down the plant after learning the PFA contamination was climbing and could soon overload the city's filtration system. Monday the state agreed to put up $2 million to build a pipeline to divert the treated water to the dry Santa Cruz river.
"What putting it in the river does is it gives us a little bit of flexibility," said James Macadam, a spokesman for Tucson Water. "It reduces the risk that some amount of PFAs could break through the treatment process and end up in the drinking water system."
He says the pipeline won't be ready for several months.

MacAdam says it's important to bring the plant back online so it can prevent the spread of the toxic chemicals that led to its construction back in the 90s:
"If we were to leave TARP off line for too long, many months to a couple of years, you would start to see the original plume of the TCE and the 1,4 Dioxin move downstream," he said.
In the longer term, the city and the state are pressing the US military, which operates a National Guard unit at the Tucson airport, to come up with a treatment plan, for when the city's plant is no longer enough. The military is considered the primary source of the PFA contamination.