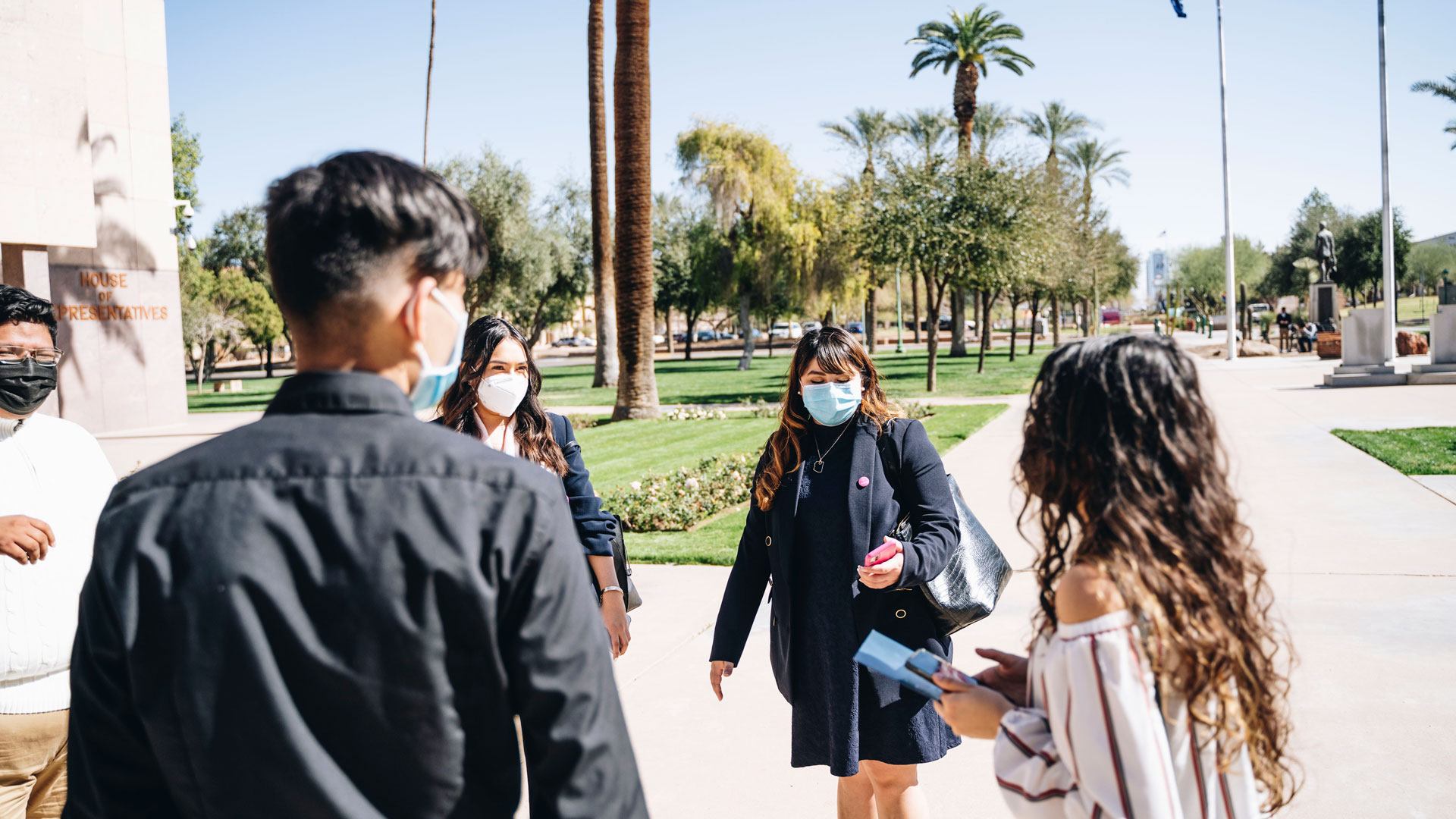 Daniela Chavira and other undocumented students and DACA recipients meet at the Arizona Capitol to speak with representatives.
Diego Lozano/Aliento
This week, the parliamentarian of the U.S. Senate is deliberating on whether to allow a sweeping immigration reform measure into a $3.5 trillion dollar reconciliation package proposed by Congressional Democrats.
The measure could give some eight million undocumented immigrants a pathway to legal status, including those brought to the U.S. as children, known as Dreamers. Aaron Reichlin-Melnick with the American Immigration Council said it's the first time in years.
"In 2013, the Dream Act just barely failed to pass in the Senate. Now, in 2021, it feels like this is the best chance to succeed where that bill failed," he said.
Former President Barack Obama's Deferred Action for Childhood Arrivals program, or DACA, gave some Dreamers protection from deportation and a work permit.
Recipient Jose Patiño of Phoenix said it was a lifeline.
"You start to imagine what could be the reality, what could be true," he said.
But DACA was always only temporary. The program first came under fire in 2017 while former President Donald Trump was in office and continued to face challenges, despite a Supreme Court ruling in its favor last year.
This year, a federal judge in Texas ruled the program was illegal, cutting off the possibility of new, would-be recipients getting protection.
Patiño said the new measure proposed by Democrats could change that.
"Finally having a pathway to citizenship, not thinking about your status, not having to renew your DACA," he said.
To include the measure in the broader reconciliation package, Democrats must prove to the parliamentarian it will significantly impact the federal budget.
Discussions and debates are ongoing. On Monday, the House Judiciary Committee met to propose amendments to the measure. Arizona representatives were divided along party lines.
In addition to Dreamers, the immigration measure also includes a pathway to legal status for undocumented farmworkers, essential workers and recipients of Temporary Protection Status. A decision could happen as early as this week.