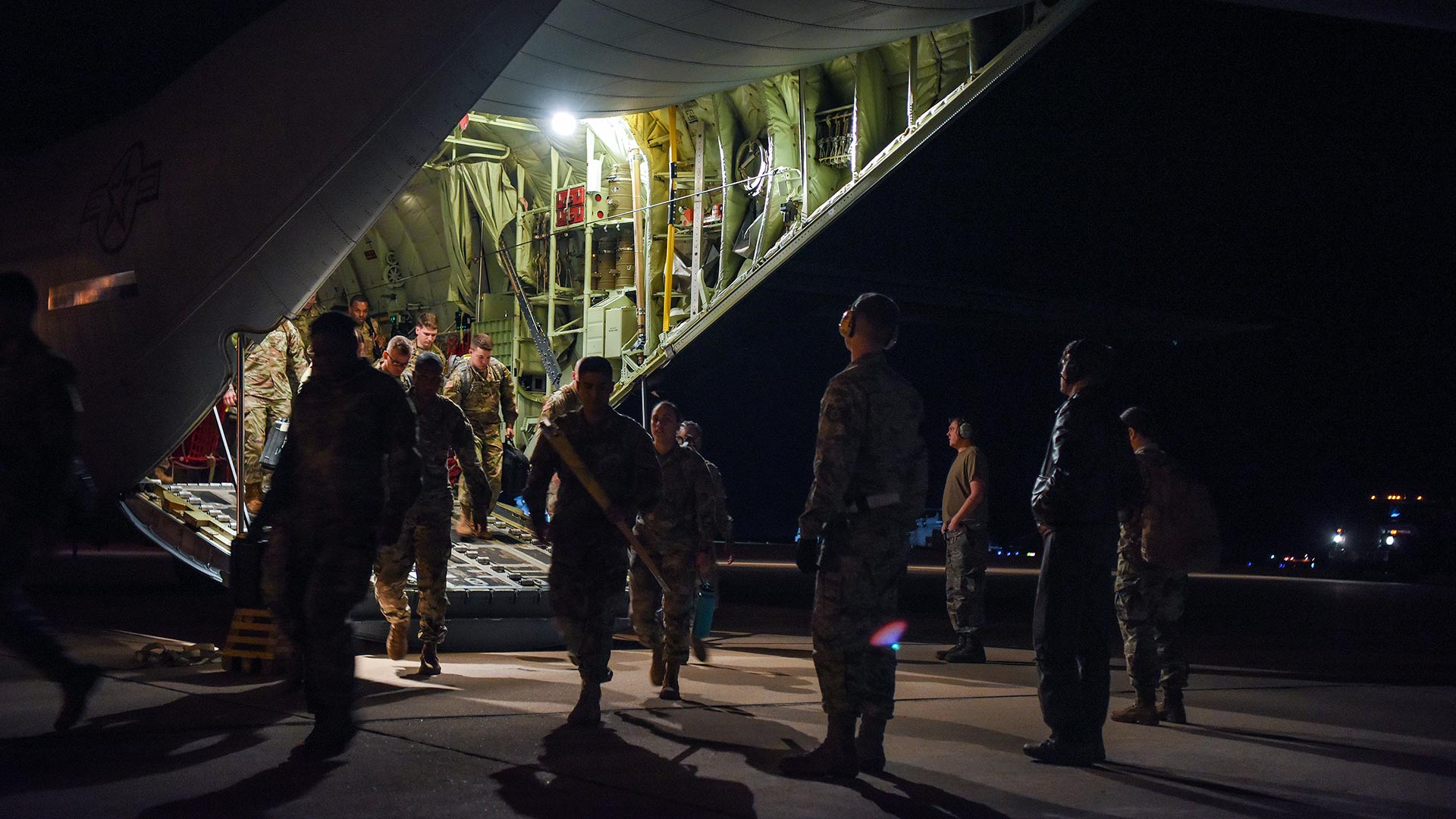 U.S. Army Soldiers out of Fort Bragg, North Carolina, arrive at Davis-Monthan Air Force Base, Nov. 2, 2018, as part of Operation Faithful Patriot.
U.S. Air Force
There is a paradigm shift for service members leaving the military, according to Jim Pipper, of the Small Business Administration.
"As you're serving in the military, you're confined to a very close community. You know where everything is," he said.
But navigating civilian life can have its challenges, Pipper added.
This week, The Buzz focuses on stories from the military and whatever comes after it for service members.
Pipper, for example, helps veterans become entrepreneurs.
Two of the largest economic engines in Tucson are Raytheon and Davis-Monthan Air Force Base. Add the national guard units stationed at the Tucson airport and the training areas in Marana as well as Fort Huachuca in Sierra Vista and it is easy to see how much money the military, its contractors and active duty soldiers and airmen pour into the area.
But the economic impact of the military doesn't end when military members leave the armed forces. Veterans are the driving force behind many small businesses.
Meanwhile, Dr. Rudy Melson helps veterans facing deportation.
"They wind up coming home as the pride and joy of their home towns. People that they grew up with in these areas unfortunately take them in directions that are less than honorable. They wind up getting involved in activities that are criminal," he said.
But many veterans who are deported are sent to countries they have not seen since they were children and are left unable to access the benefits they earned in the military — a particular problem for those living with post-traumatic stress disorder or other combat-related conditions.
"That compounds the sense of isolation that can only exacerbate their condition," said Melson, with Consultants for America's Veterans, a group that advocates for deported veterans.
The Biden administration said earlier this year it would help some veterans who have been deported return to the United States and become citizens.
For one group of Tucsonans, honoring departed soldiers is something they do year-round.
The local chapter of the Missing in America Project tries to find recently deceased veterans and make sure they are interred with full military honors.
Shaun Pfund, a volunteer with the project, said some of the veterans interred by the group had died living on the street or alone in nursing homes.
The service underscores the slogan of the project: never forgotten.
"And they never will be," Pfund said. "Not as long as I and other people are here to recognize them for their service."

The Buzz
airs Fridays at 8:30 a.m. and 6 p.m. and Saturdays at 3:30 p.m. on NPR 89.1. You can subscribe to our podcast on
iTunes
and NPR One. See more from
The Buzz
.