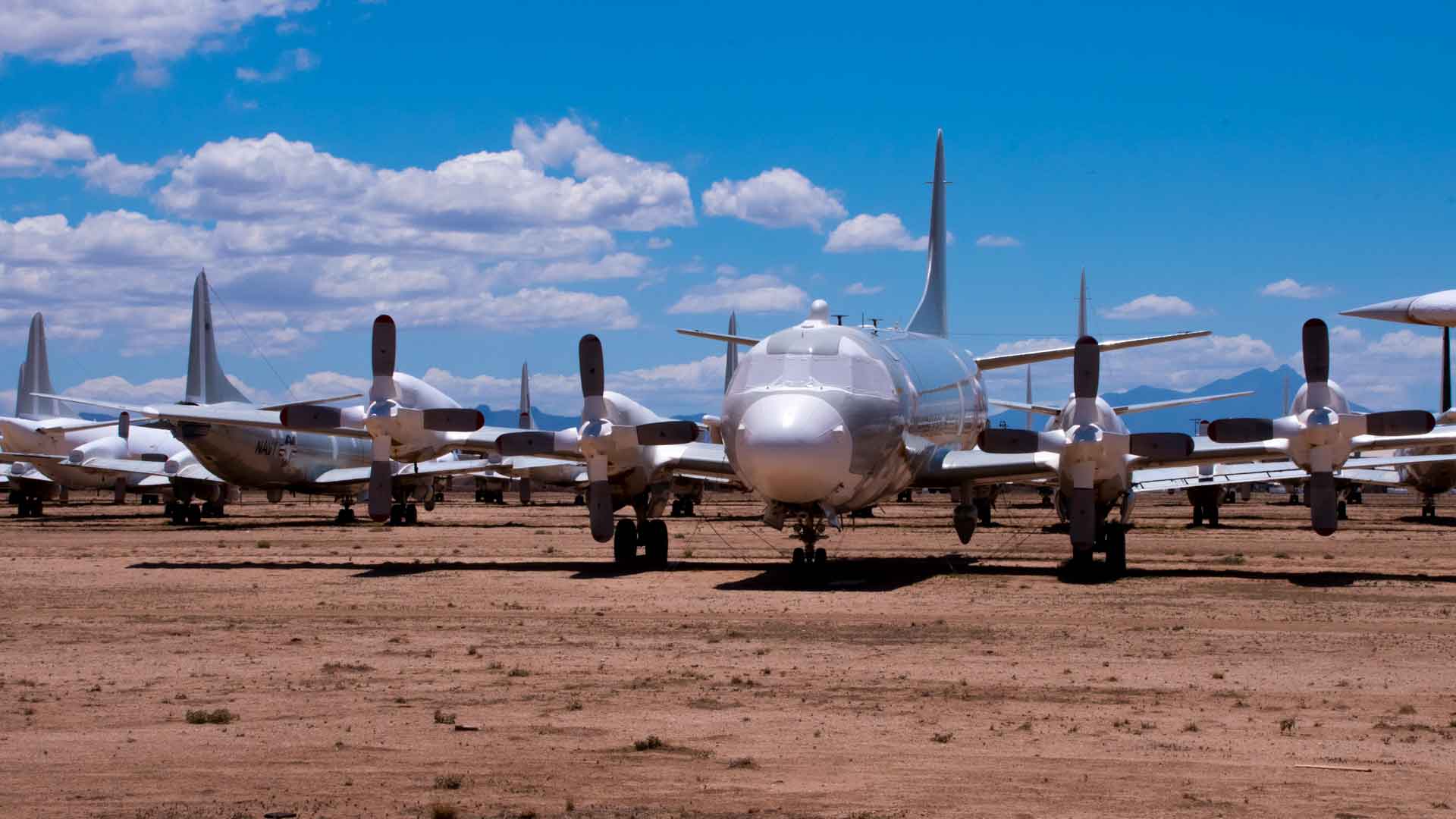 Planes stored at AMARG in Tucson. April 2021
Christopher Conover/AZPM
In 1946, the U.S. government began storing planes in the Tucson desert. Seventy-five years later that area, known to locals and aerospace enthusiasts as the Boneyard, is home to nearly 3,100 planes.
The area is officially known as the 309th Aerospace Maintenance and Regeneration Group (AMARG). The thousands of acres of planes on Tucson's east side are part of the area's lore and have continually been part of history.
In 1948, C-47 cargo planes that were stored in the desert flew out of Tucson and participated in the Berlin Airlift.
In 2011, NASA took a B-57 bomber built in 1953 out of the desert and added it to its fleet in Texas.
"And it was most recently used to chase the astronauts, the splashdown," said Col. Jennifer Barnard, the commander at AMARG.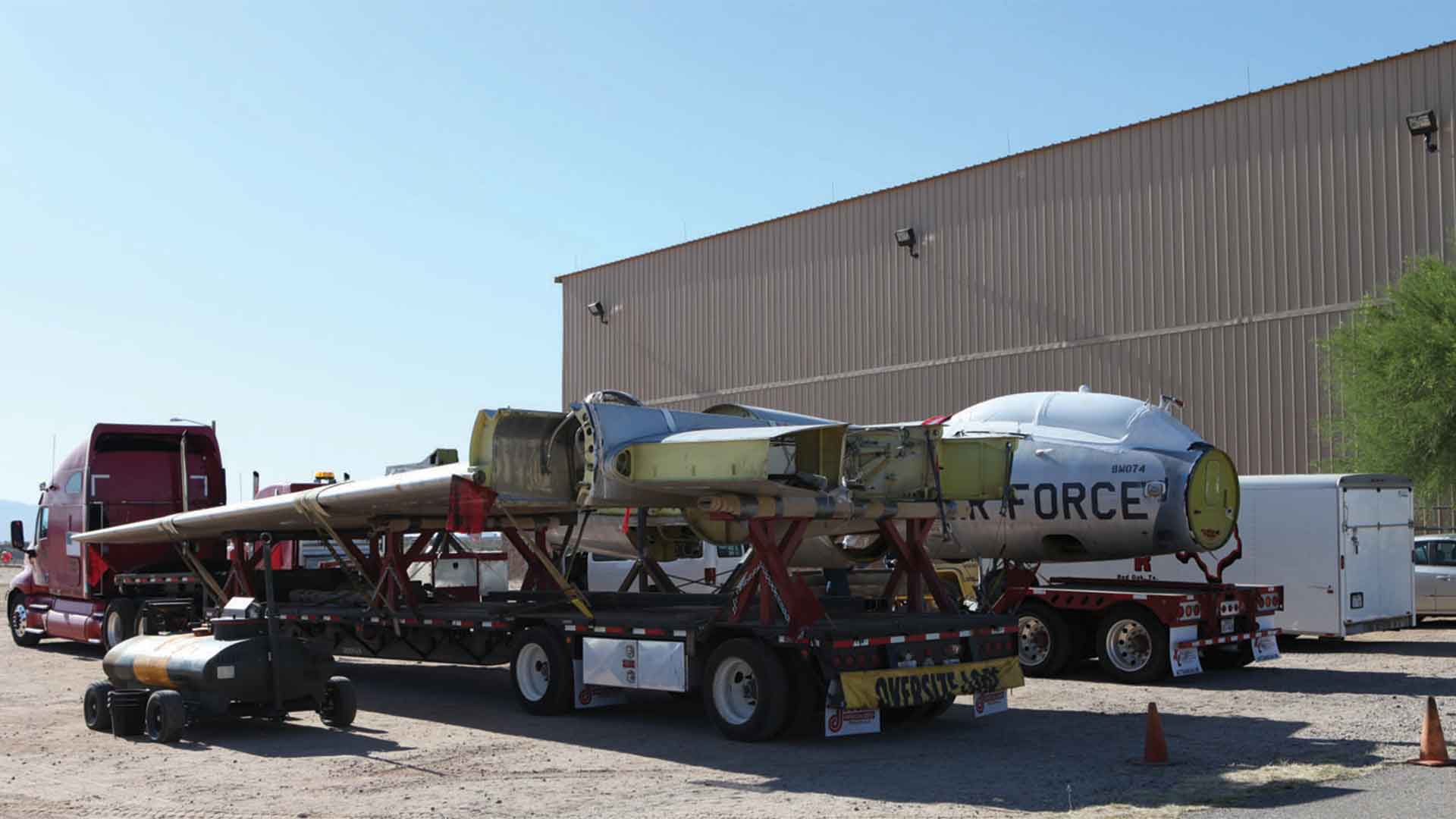 A WB-57 built in 1953 is taken out of storage at AMARG in 2011. The plane was put back in service by NASA.
309th AMARG
That plane was used by NASA to help spot the Space X capsule returning from the International Space Station last fall and again just days ago.
AMARG has also helped make history not by putting craft back in the air but by making sure they can't fly.
"Years ago, AMARG was a disposal facility for the BGM 109 Griffin which is a ground-launched cruise missile and that was after President Reagan and Soviet President Mikhail Gorbachev signed the treaty and eliminated that entire class of weapons," Barnard said.
The missiles are gone but Barnard says helping the U.S. comply with weapons reduction treaties is an ongoing job at AMARG.
"We are also currently a heavy bomber storage location on the conversion and elimination under the new Strategic Arms Reduction Treaty and it was in 2011. Due to COVID we haven't had the Russian inspectors visit but that is something that they will restart, pun intended I guess, when COVID makes it a safe environment to do that," said Barnard.
The regeneration part of the AMARG name and mission not only puts planes back into active service but also into a training role.
Workers at the facility spent years turning retired F-100s, F-102s, F-106s, and F-4s into drones used for training. That program now uses early F-16s.
A group of F-16s at AMARG is ready to go back into service as drones to help test new weapons. April 2021
Christopher Conover/AZPM
"We are regenerating some of these aircraft for what are called full-scale aerial targets and then we also, under a partnership with Boeing where we install the drone peculiar equipment so these aircraft can be flown manned or unmanned and ultimately their job is to do testing for weapons," the Colonel explained.
The military also sends some of its newer F-16s to AMARG for upgrades. The A-10s, which are familiar in the skies over Tucson, are also frequent residents of the facility where they undergo wing repair that helps extend their usable life.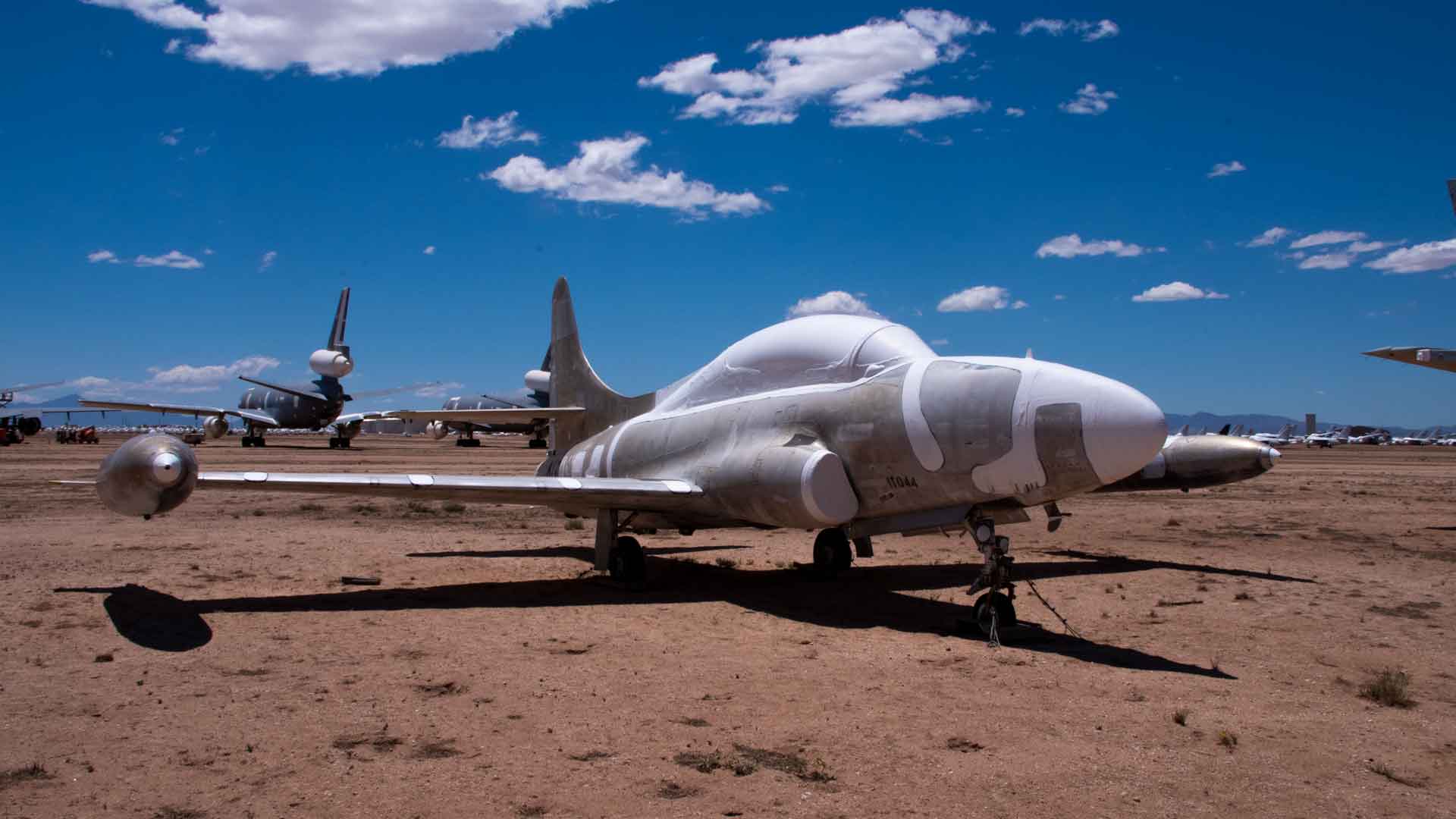 This Navy T-1A trainer was brought to AMARG in 1971, making it the plane that has been in storage the longest. April 2021
In addition to upgrades and repairs, the mostly civilian staff at AMARG also retrieves parts from the planes in the desert.
That job saved the U.S. government $363 million dollars in FY 2020 according to Air Force information.
"Our folks will go out and reclaim those parts. The aircraft that are stored here don't belong to AMARG, they belong to each of the program offices or the services that store them here. So, they go to the extent of telling us which tail numbers to look for those parts and what configuration those parts should be in, what level of assembly so it's very good. In general, we are reclaiming a few million dollars worth of parts every week and shipping them out to be utilized," Barnard explained.
The planes stored at AMARG over the last 75 years represent the history of U.S. airpower. Nestled among a row of identical helicopters is the last U.S. plane out of Vietnam. The first fighter jets to respond to the 9/11 attacks were stored in the desert.
About 1% of the planes belong to museums.
"Every one of those planes has a story and every one of those stories should be told and those museums give those aircraft a chance to tell their story," said Barnard.