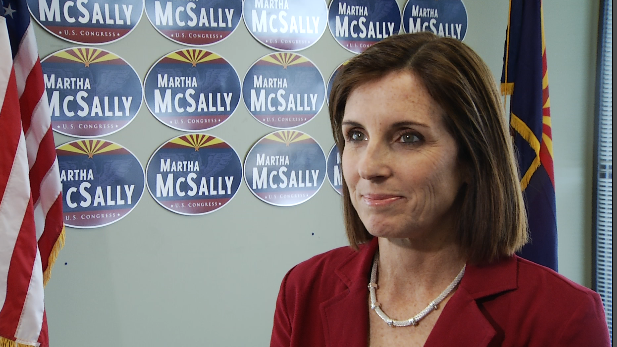 U.S. Rep.-Elect Martha McSally, R-Ariz., in Dec. 17, 2014 interview.

Andrew Brown, AZPM
Listen:
U.S. Rep.-Elect Martha McSally will ramp up quickly to take office, recognizing her slim margin of victory over incumbent Democrat Ron Barber.
McSally was declared the winner of the 2nd Congressional District race Wednesday after a recount showed she had 167 votes more than Barber. Before the recount, the vote tally showed McSally with a 161-vote margin.
The margin of 0.076 percent made the race the closest congressional contest in Arizona history, and it led McSally to say she must serve everyone.
"You'll see in my announcement of my transition team tomorrow (Thursday) that I am reaching out to all parts of our community, those who supported me, those who didn't support me, so that I can represent everyone, and what matters to us most," she said in an interview at her campaign headquarters Wednesday afternoon.
The 48-year-old retired Air Force colonel and fighter pilot said she also knows she has a tight turnaround to be ready for the start of the new Congress in January.
"Usually you have about eight weeks to get up and running between the election and swearing-in day, and I think we've got less than three weeks," she said. Swearing-in is Jan. 6, 19 days from Thursday.
Besides getting ready for the lawmaking session, McSally and her new staff must take over constituent services in a district that carries one of the nation's heaviest loads of helping citizens resolve issues with the federal government.
Barber's office will hand over 700 active constituency cases, he said in an interview, and he plans to make sure that goes smoothly, "so that every individual who has a case with us knows where they can go for help between now and when Martha is set up to help them."
McSally agreed.
"We're both committed to that transition staff transferring over cases of constituents that have come to him for help, and sitting down and making sure that I can benefit from the wisdom," she said.
She added that she told Barber she appreciated his work in Congress and in the community.
"I thanked him for his years of service to the community and making sure that we do everything we can to have a smooth transition so it was a very good conversation," she said.
Barber, 69, won the seat in a special election in June 2012 to replace Gabrielle Giffords, for whom he had served as district director. Barber and Giffords were wounded in the Jan. 8, 2011 shooting in Tucson that left six dead and another 11 people wounded.
He said he is looking forward to returning to his life the way it was before.
"This morning I was at grandparents day at my grandson's school, and yesterday I was at grandparents day at my granddaughter's school," Barber said. "So that's kind of stuff that I'm going to be doing into the near future, and we'll see what happens after that. But I'm going to be here in Tucson as I always have been and I'm going to do whatever I can to help this community."