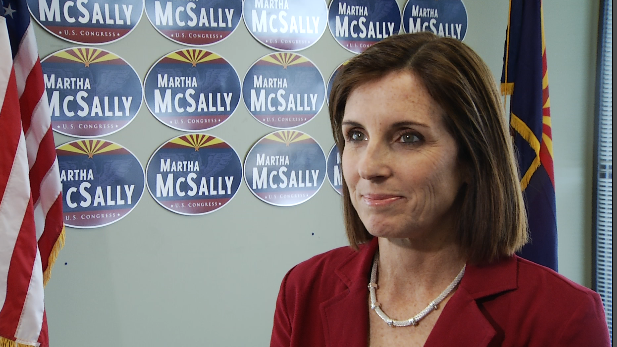 U.S. Rep.-Elect Martha McSally, R-Ariz., in Dec. 17, 2014 interview.

Andrew Brown, AZPM
Listen:
Republican Martha McSally was sworn in to the U.S. House of Representatives Tuesday, along with Arizona's four other Republican and four Democratic representatives.
McSally won the 2nd Congressional District seat, ousting Democratic incumbent Ron Barber. She won by 167 votes, following a state-required ballot recount.
Speaking on Fox News this weekend, McSally said immigration changes are high on the list of priorities for people in her district, which touhes on the Mexican border in southeastern Arizona.
"They want to revamp and modernize the legal immigration system so that if somebody wants to come here to work or they graduate from the University of Arizona with a Ph.D., they don't go back to one of our competitors. We actually give them an opportunity to come here work, pay taxes, on all ends of that spectrum," she said.
President Barack Obama's executive action on immigration last year will do some of those things, but McSally said Obama focused only on the symptoms of the country's immigration problems.
"We've got to focus on the root causes, which is border security and modernizing the legal immigration system so it's responsive to our economic needs," she said.
Creating more jobs and securing the border were cornerstones of her congressional campaign.
McSally was assigned to the Armed Services and Homeland Security committees in the House of Representatives. Her office said she was named to chair the Homeland Security subcommittee on emergency preparedness, response and communications, which provides oversight on threats posed by bioterrorism, emergency communications and disaster response and preparedness.
Arizona's representatives sworn in Tuesday:
- District 1: Democrat Ann Kirkpatrick, Flagstaff, Navajo Nation
- District 2: Republican Martha McSally, Tucson, Cochise County
- District 3: Democrat Raúl Grijalva, Tucson, western Pima County, Yuma
- District 4: Republican Paul Gosar, Pinal, western rural Arizona
- District 5: Republican Matt Salmon, Mesa, Gilbert, Queen Creek
- District 6: Republican David Schweikert, Scottsdale, Fountain Hills, Cave Creek
- District 7: Democrat Ruben Gallego, Glendale, Phoenix
- District 8: Trent Franks, Sun City West, Peoria
- District 9: Democrat Kyrsten Sinema, Phoenix, Tempe