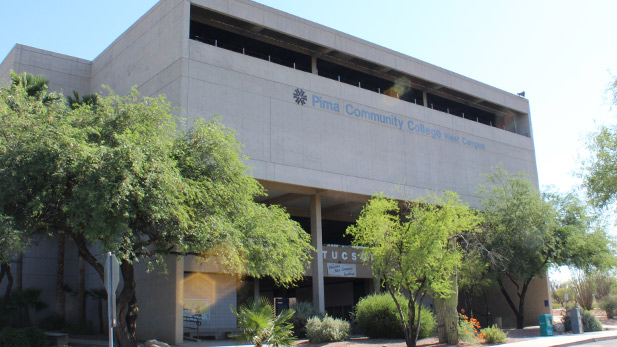 The west campus of Pima Community College.

Stephanie Torres, AZPM
Listen:
Pima Community College will soon have a new governing board member, and people interested in the position have until Friday to apply.
Until recently the seat was filled by Marty Cortez, who was first elected to the board in 1994.
Cortez's current term would have expired in 2018, but she announced her resignation in June, citing personal reasons.
As of Wednesday, four people had applied for the position.
An advisory board will review all candidates and Pima County Superintendent of Schools Linda Arzoumanian will choose Cortez's successor, who will serve on the board through 2016.
Voters in the November 2016 general election will then be asked who should fill the seat for the following two years.
Ricky Hernandez, who works with the Superintendent of Schools, said the ideal candidate will be able to fairly represent the residents of Pima Community College District 5, which encompasses a large part of western Tucson, and be interested in the school's well-being.
"Obviously there are very specific issues going on at Pima College right now, and the bigger issue is trying to make sure that the person isn't focused on one issue but understanding that there are a whole set of issues," Hernandez said.
Candidates must be registered to vote in Arizona and be residents PCC's District 5.