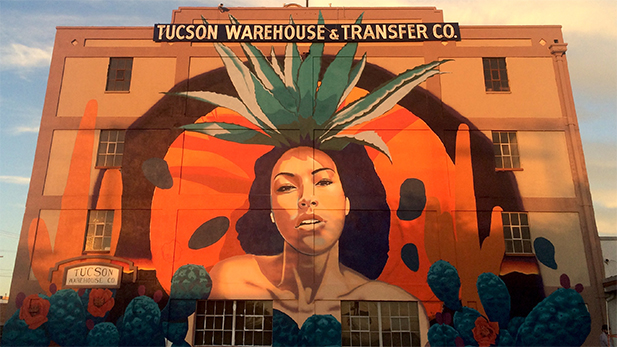 An agave goddess gazes from the side of the Benjamin Supply building on 6th Street and 7th Avenue in May 2016.

Janelle Gleeson
Photo courtesy Janelle Gleeson
LISTEN:
A brick wall behind downtown Tucson's Rialto Theater is adorned with the image of a cowgirl riding a horned jackrabbit like it's a rodeo bull. A few blocks away, on Pennington Street, a giant Sagrado Corazón takes flight. Across the tracks is a woman with agave sprouting from her head, gazing into the sunset from the side of the Benjamin Supply building on 6th Street and 7th Avenue.
They are among the eight works local artists are painting this month, part of the Tucson Arts Brigade's Tucson Mural Arts Program.
The agave goddess is the work of graffiti artist Rock Martinez.
"She is basically a representation of the desert," Martinez said.
Martinez said his piece can mean many things, but he does want it to speak to people. Art, he said, is a language.

"And I hope that mine is perceived as beautification and cultural preservation in Tucson," he said. "[I'm] just trying to share that, how we're all connected as one."
He said he wants his mural to stay up for so long has to come back when he's old to touch it up.
In other words, his hope for his agave goddess is that she becomes an icon of the community, just like the building she's painted on.
The project is a program of the city of Tucson Mural Program, which is managed by the Tucson Arts Brigade. Funding from the Tohono O'odham Nation, Friends of Tucson Arts Brigade and Visit Tucson.
A July episode of Arizona Illustrated will feature a story about the mural project. For a behind-the-scenes look, follow the program's Instagram.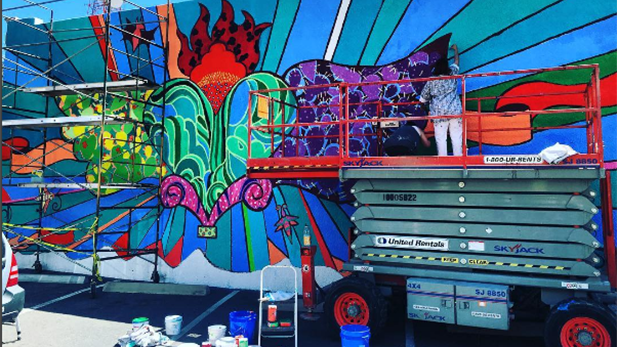 A mural in progress in downtown Tucson.

Andrew Brown, AZPM