Johnny Gibson's Downtown Market opened in 2015, the only grocery store downtown. Its namesake is former barber and gym equipment retailer, shown in black and white photos above the deli.

Arlene Islas, AZPM
Listen:
The incentive is offered as a property tax abatement. Property owners who opt in are excused from paying property taxes for eight years, as long as they double the value of the property with construction or renovation, and can show they will generate other taxes in that time.
Many businesses are generating sales taxes, paying construction taxes, or will collect bed taxes in the case of a forthcoming hotel, that far exceed the amount waived in property taxes, said Camila Bekat, a city economic development specialist.
What It Means For One Business
Johnny Gibson's Downtown Market is the only grocery store downtown. It's also a coffee shop, a salad bar and a reference to the past. Like many downtown businesses, it is a new use of an old building.
On a recent afternoon, one of the store owners was perched atop a refrigerator, tracking down a water line issue. It's all in a day's work for Paul Cisek.
"Someone told me that 75 percent of the businesses downtown aren't making a profit. I'm happy to say that we're turning a profit," Cisek said, one year into the business venture with his wife and another couple as partners.
Cisek can attribute at least part of that profit to the generosity of the landlord, he said. Steve Gibson owns the building, and others that face into a courtyard along Arizona Avenue between Congress and Broadway.
Steve Gibson is the son of the market's namesake, longtime downtown barber Johnny Gibson, and photos inside the grocery show that legacy, plus Johnny's gym equipment store, formerly in the same space the market now occupies.
Gibson applied for the city's property tax abatement incentive, and will pass along the benefit to his three tenants: the market, Highwire Lounge and the Independent Distillery. Collectively, the tenants occupy Gibson Court.
"We have to reimburse Steve for property taxes, so every one of the three tenants that are here gets relief because when he doesn't have to pay the taxes, we don't have to pay the taxes," Cisek said.
Is that a factor in the market making a profit? "Absolutely," he said.
The tax abatement is formally called the Government Property Lease Excise Tax, or G-PLET. The property owner is the one who can apply.
"We had to show that we improved the property at least 100 percent beyond the current value at that time, show that it created a good tax base, and employ x amount of people in new jobs," Gibson said.
The property tax waiver, or abatement, is offered only to businesses that can show, with a third-party economic analysis, that they will meet the requirements of significantly increasing property value and generating new taxes.
The point is that when they start paying taxes again, they'll pay more because of the upgrades and new uses, and the governments that waived the taxes for eight years will make the money back.
Upside for City
In most cases, the property will pay more in taxes long before reaching the eight-year mark, said the city's Bekat.
The city carefully considers each application for the tax abatement for the long-term benefit, she said.
"It's a decision that we make that we are going to forgo the little city of Tucson property tax revenue that we get now, for a much bigger gain in year nine, year 10," she said.
The city began offering the incentive in 2012 and, to her, the impact is visible.
"If you look around downtown the minute you get out of the 4th Avenue Underpass, essentially every new building that you see downtown has used this incentive," she said.
That includes the hotel under construction on Broadway near Fifth Avenue.
It's a good example of how the city benefits from the tax waiver.
"It was a surface parking lot that generated very little property tax revenue. Once it's all developed and after the eight-year abatement period is finished, the amount of taxes that are going to be generated in just that first year are way more than what all of the taxing jurisdictions would have collected had it just remained a surface parking lot," Bekat said.
Properties that have received the GPLET in Downtown Tucson
Other Options
The incentive is not for everyone. For example, Patricia Schwabe's successful Penca Restaurante on East Broadway.
"We've done well and we're stable and we're happy," she said. "We're happy to be part of the community and loving everything that is happening."
She says the tax incentive program wasn't a good fit for her restaurant.
"We didn't apply for that. I guess I just saw it or we've seen it as being used for maybe larger scale developments," Schwabe said.
Perhaps, she says, it's harder for smaller businesses to guarantee revenue growth. Schwabe and her husband Ron Schwabe own Peach Properties, which has received GPLET incentive on other properties.
There have been smaller incentive programs available, she said. The building that houses Penca is also home to Providence Service Corporation and some University of Arizona office space. The owner used a façade grant to help improve the look of the exterior, which is now the raw brick style of decades ago downtown, making a resurgence throughout the city's core.
What's Next
The resurgence of downtown Tucson has helped Gibson make new uses of buildings his family has owned for decades.
"We have a long ways to come downtown but it's encouraging. It's better than I've seen it myself in the last 40 years," he said.
The city hopes that by helping owners like him, other developers will see the potential downtown.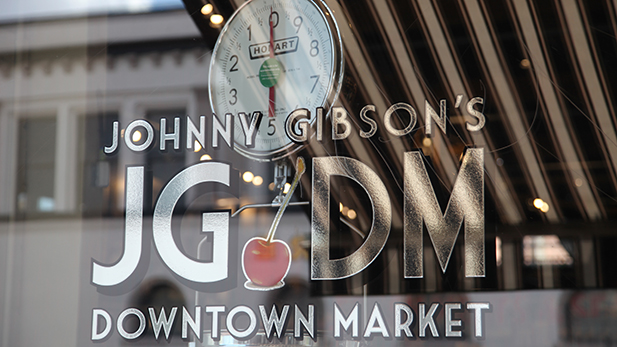 Arlene Islas, AZPM