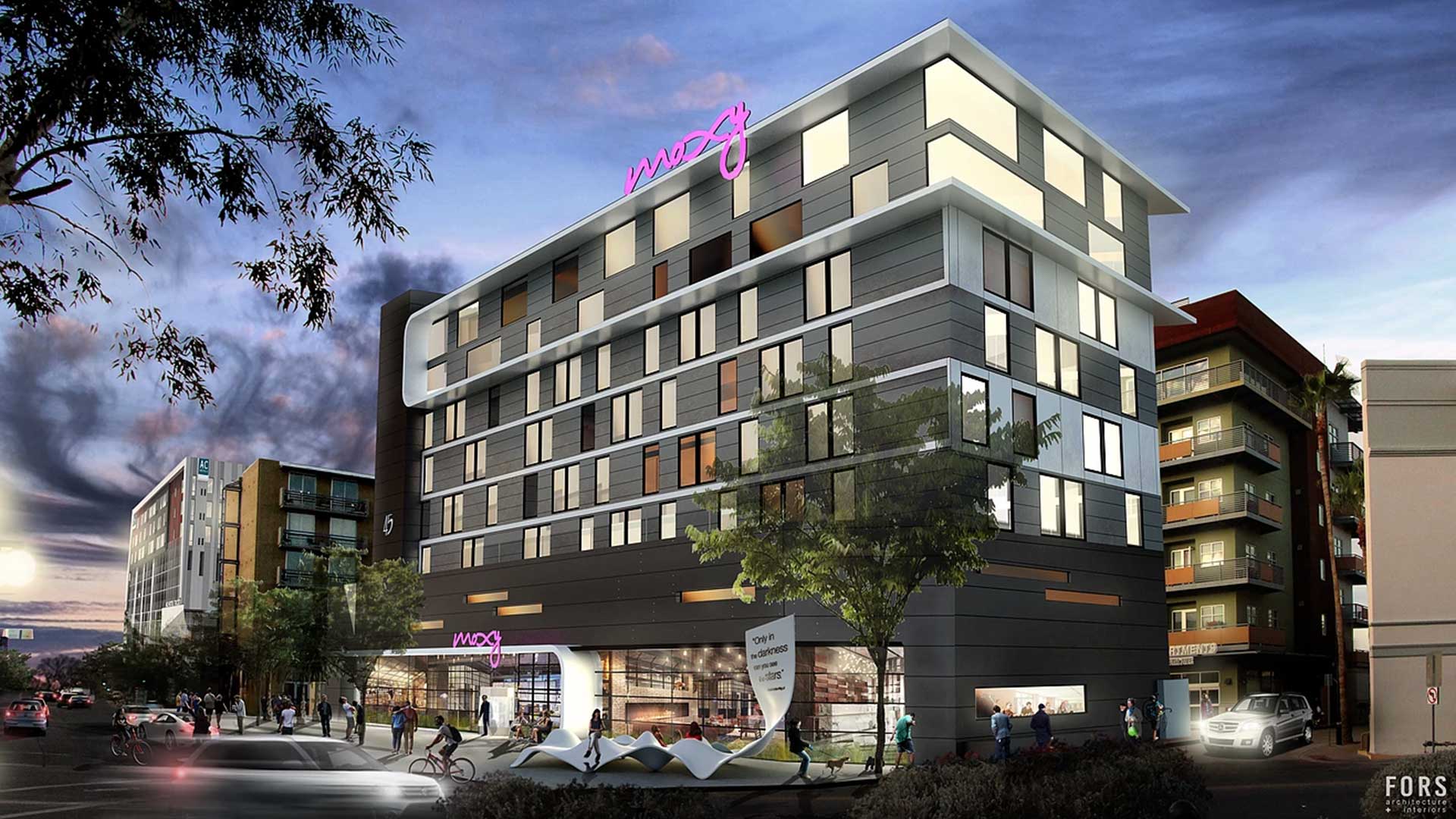 Artist's rendering of the Moxy, a hotel planned for downtown Tucson, North Fifth Avenue at Toole Avenue.
FORS Architecture, Rio Nuevo
The Rio Nuevo downtown redevelopment board approved sales tax incentives for two hotel projects Tuesday.
A Marriott hotel called Moxy is planned for North Fifth Avenue between East Congress Street and Toole Avenue. It will be developed by Scott Steitler, who is constructing an A.C. Marriott hotel about a block away at Fifth Avenue and East Broadway.
A hotel will also go up in the east parking lot of the Tucson Convention Center. That property doesn't have a national brand associated with it yet. It will be developed by Scottsdale-based Caliber Hospitality.
Both will receive rebates on the sales taxes they bring in from their openings until 2025, said Fletcher McCusker, chairman of the Rio Nuevo board.
The properties are not generating taxes now. The Moxy site is a vacant lot, and the Caliber site is parking for the convention center. That hotel will include more parking as part of its construction.
McCusker said both are being developed entirely with private funds, and the sales tax they will get back would otherwise go to the Rio Nuevo district for redevelopment projects.
"Obviously a retail establishment, a hotel, a bar, a restaurant, generates sales tax," he said. "Half of that sales tax comes back to Rio Nuevo. So we've agreed to contribute that tax, that all-entirely-new tax, back to the developer."
Two other hotels are in discussion, but not approved. One is for a vacant lot west of the convention center and south of the Federal Courthouse downtown. That lot is primarily used for gem show vendors.
The other is the shuttered Hotel Arizona property, which is in need of repairs and upgrades. It is north of the convention center on Congress Street. McCusker called those projects in a discussion phase.
He said the hotel projects planned for downtown Tucson are a sign of a third stage of development. First, there was a spate of new restaurants that brought people downtown, he said. Next came apartments, bringing some residents to the city core. Hotels tend to be the third phase of downtown development, signaling people see the site as a destination of sorts.