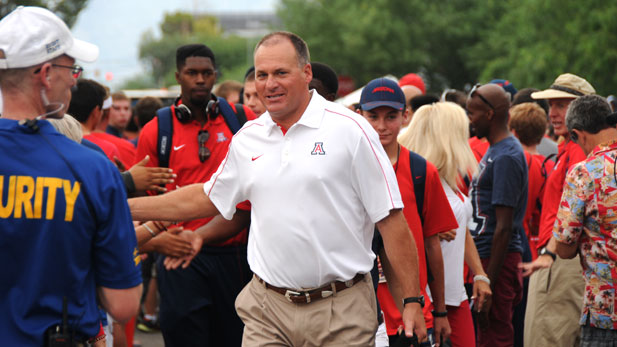 Former University of Arizona football coach Rich Rodriguez greets fans as he leads the team into the stadium, 2012.

Mitchell Riley, AZPM
A past assistant to former University of Arizona Football Coach Rich Rodriguez has filed a new notice of claim against the fired coach, his wife and the UA, seeking $8.5 million.
A lawyer representing Melissa Wilhelmsen and her husband Jason had previously filed a notice with the Arizona attorney general's office against Rodriguez and his wife for $7.5 million.
That claim alleged Rodriguez sexually assaulted and harassed Wilhelmsen on a number of occasions, and allowed others to also harass her.
The new claim includes much of what was in the previous claim, but adds details from the accuser about an exit interview she had in August with Senior Associate Athletics Director Mike Ketcham.
"Ketcham acknowledged that he generally knew that Rodriguez had harassed her, but he needed details from her, as he had been 'insulated' from knowing exactly what had occurred," reads the notice.
It also mentions a later meeting between Wilhelmsen and Kristen Klotz, the equity officer and deputy director of institutional equity at the UA. The notice claims Wilhelmsen told Klotz about the harassment, but that she worried coming forward could cost others in the department their jobs.
"[Wilhelmsen] was also worried that any comments might get publicized," it reads.
An investigation stemming from Wilhelmsen's accusations ultimately led to Rodriguez being fired earlier this month.
The University of Arizona and the Arizona Board of Regents declined to comment on the notice of claim or the allegations it contains. Both instead referred to statements issued when Rodriguez was fired.
A statement on the firing by UA President Robert C. Robbins and Athletic Director Dave Heeke can be found here.
A statement on the firing by ABOR chair Bill Ridenour can be found here.
Notice of Claim Against UA, Rodriguez

View at Google Docs
|

Download File