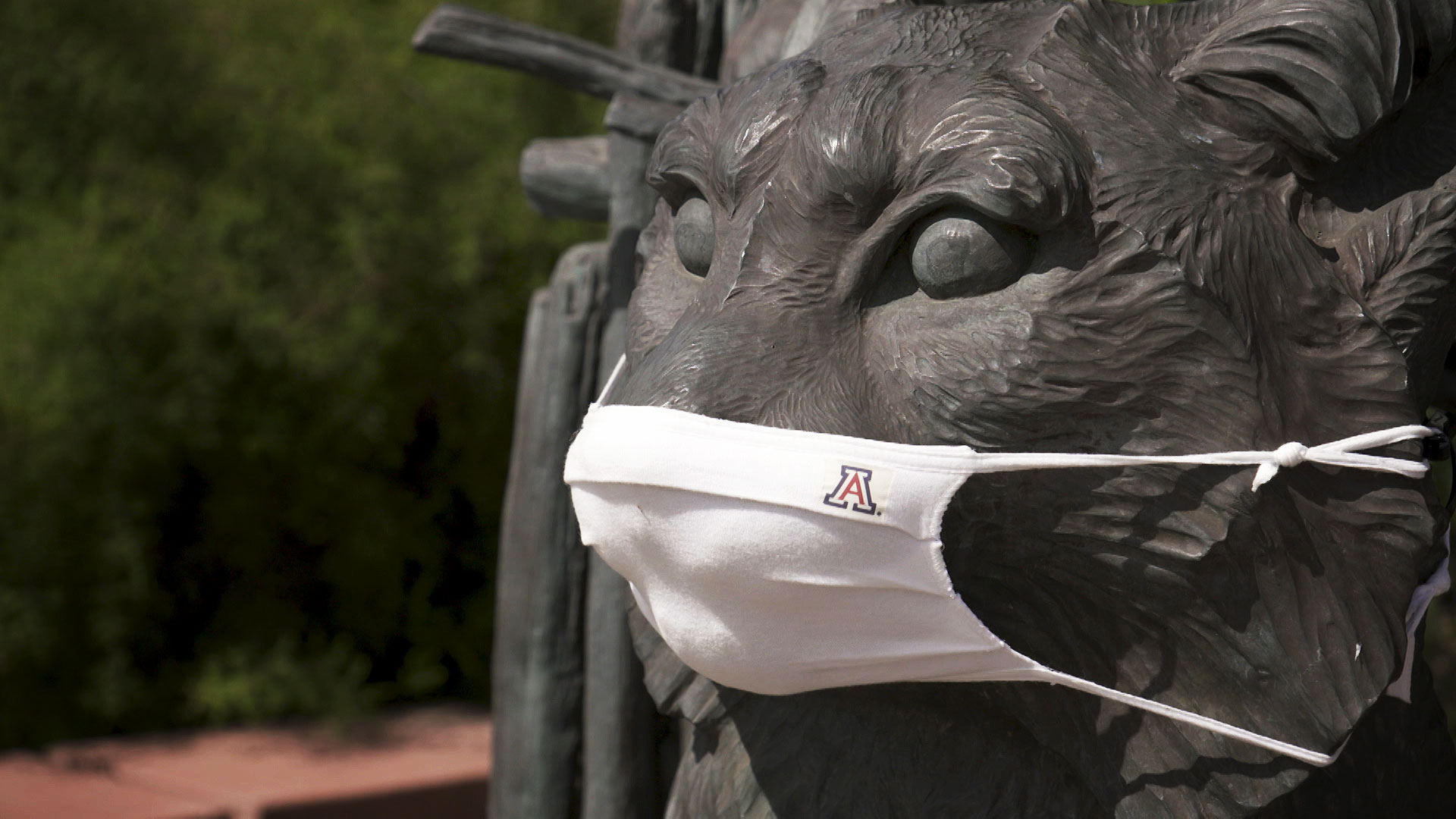 A wildcat statue at the University of Arizona sports a custom mask. July 2020.
AZPM Staff
University of Arizona officials are urging students to be responsible when celebrating Halloween this weekend. The university has continued to break up large parties and officials said that kind of behavior will lead to an uptick in cases of COVID-19.
University President Robert Robbins reminded students and the university community that even in costume, people need to wear masks.
Last week, the university broke up a dozen parties, including one with more than 100 people in attendance.
UA has a month of on-campus classes left before the Thanksgiving break. After the break, all classes will finish the semester online.
"From now, until November 26th, when we expect many students will leave the Tucson area for the semester break, we need to stay focused, we need to stay vigilant, we need to pay meticulous attention to details," said Robbins.
Even though all classes will be online after the break, students will be allowed to return to campus for the last few weeks of classes.
University of Arizona officials estimate that 20-25% of students decided not to attend the university during the fall semester due to the COVID-19 pandemic.
Initial estimates from the university put the cost of those lost students at about $90 million. Robbins says, so far, the shortfall has only reached about $50 million.
"The amount of tuition that we got was more than we thought it would be. There's still been a furlough program, it still caused incredible pain and suffering to our faculty, our staff and I would say even to our students because many of the students have jobs at the university," Robbins said.
Registration gets underway next week for the Spring semester and university officials are uncertain how many students will return for classes.
Robbins said next semester will look similar to this one. Classes will begin online and then slowly transition to some in-person classes if there is no major outbreak.
Currently, the university allows classes of 50 or fewer people to meet in person. Robbins said about 6,000 students are on campus at this point.
In-person classes for everyone probably will not happen for a year, according to Robbins.
During October, the university has averaged about five new cases of COVID-19 a day. In September, that number was nearly 90 a day.