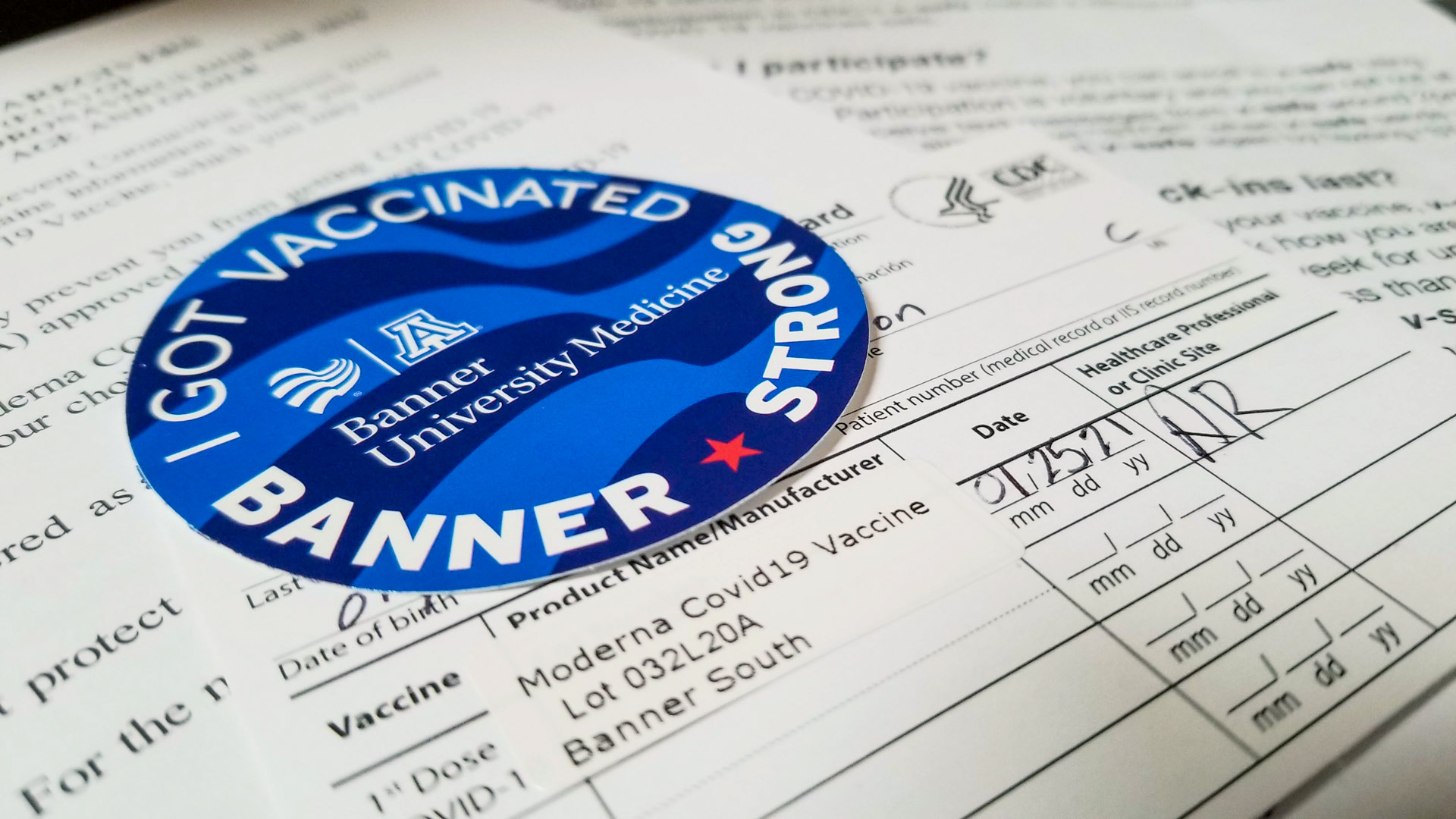 A COVID-19 vaccination record card is received following the administration of the Moderna COVID-19 vaccine at Banner University South.
AC Swedbergh/AZPM
The University of Arizona is sending 1,000 doses of the Moderna COVID-19 vaccine to Pima County so the county can continue its mobile vaccine program.
The county was forced to curtail the mobile program, which goes into underserved communities, when weather caused delayed the delivery of the county's full Moderna allotment.
State officials said Arizona's shipment of last week's Moderna vaccines should be in the state in the coming days.
Health officials also said, the forthcoming Johnson and Johnson vaccine could be in Arizona as soon as next week. A lag in manufacturing will keep it out of wide circulation for a bit longer, according to state officials.
The Johnson and Johnson vaccine requires only one dose in contrast to the Moderna and Pfizer vaccines which require two doses.
Pima County uses the Moderna vaccine in its mobile sites because it does not have the stringent storage requirements that the Pfizer vaccine does.
The Johnson and Johnson vaccine also has less stringent requirements.
The state is hoping as more Moderna and Johnson and Johnson vaccines become available it will be able to move vaccine sites into underserved communities.
"As we get more vaccine, trying to get more community based and local vaccination sites. So, places like community colleges, churches where people live nearby to make sure there is not a barrier due to transportation or something and that they feel comfortable to go get vaccinated," said Dr. Cara Christ, director of the Arizona Department of Health Services.
Pfizer is the state's vaccine of choice at the mass vaccination sites it runs in Phoenix and Tucson because those locations have the ability to store the vaccines at the required, ultra-low temperatures.