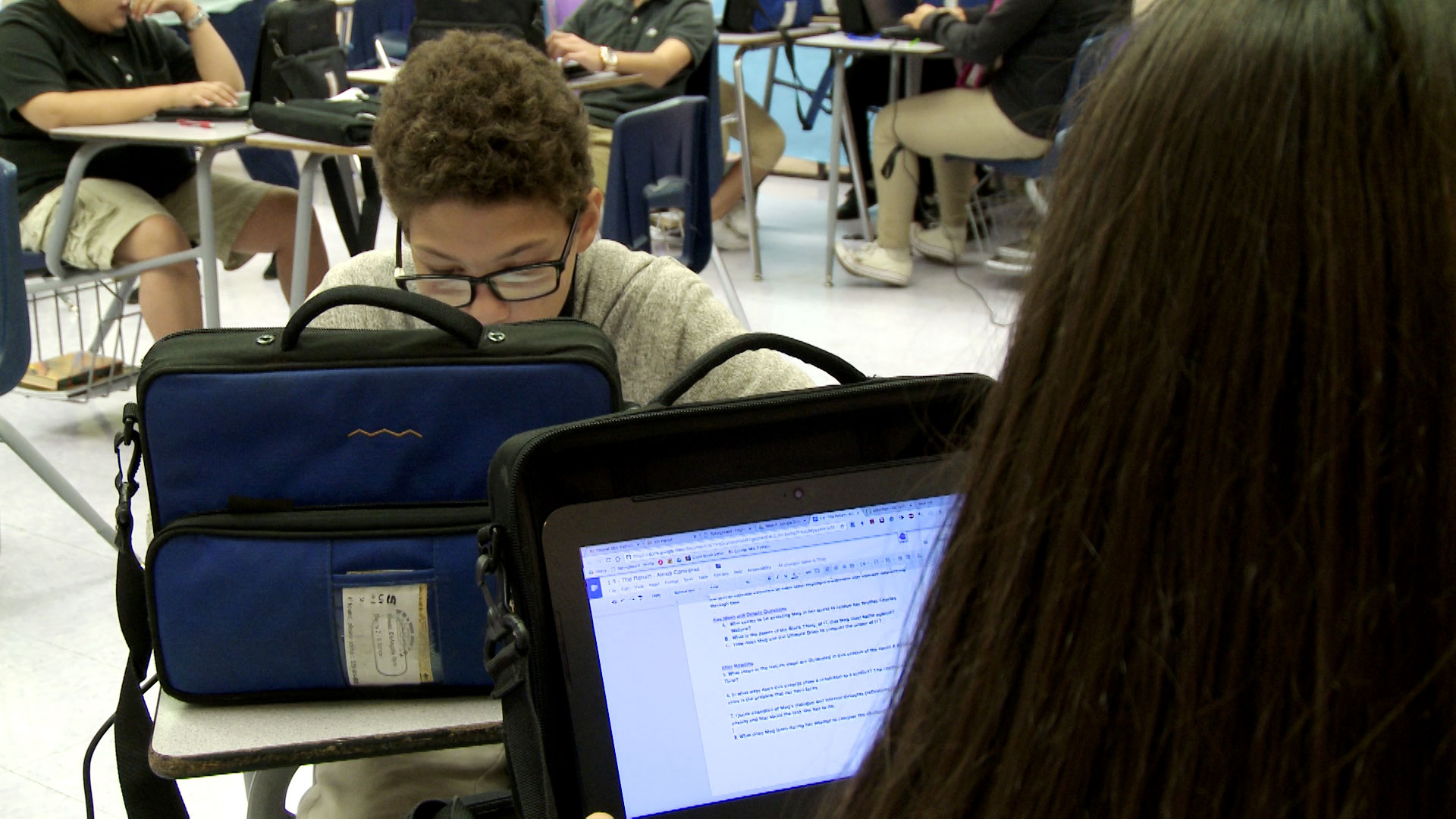 File image of students using school-provided laptops in the Sunnyside Unified School District.
AZPM Staff
Federal dollars from COVID-19 relief packages are coming to Southern Arizona school districts.
The largest school district in the area, Tucson Unified, will receive over $70 million from the Elementary and Secondary School Emergency Relief fund. A portion of the money will go toward purchasing a fleet of new school busses equipped with high quality air conditioning systems and more room to social distance, district superintendent Gabriel Trujillo said.
Funding is also expected to go toward providing each TUSD student with their own learning device, upgrading teachers' equipment, and improving wifi access at students' homes as needed.
Meanwhile, the University of Arizona is moving towards more sustainable energy.
As of May 1, the university will receive 100% of its purchased energy from renewable sources. The energy comes from a solar storage system south of the city and a wind farm in New Mexico through a deal with Tucson Electric Power.
---
TUSD makes plans to replace buses using federal aid
AZPM
The Tucson Unified School District plans to use federal funding to retire 26 out-of-date school buses and bring in 57 new ones. That's according to district superintendent Gabriel Trujillo.
"That will help us run more routes, put fewer students on each route, and will feature buses with state of the art, air conditioning systems that are MERV 13 rated," Trujillo said.
MERV 13 is the highest rating for air filtration. Trujillo said the new buses will allow for greater social distancing
The district will receive over $70 million dollars in federal aid from the second round of Elementary and Secondary School Emergency Relief funds.
The TUSD governing board will vote on the ESSER plans in the coming weeks.
---
School board ends meeting as parents protest mask mandate
AP
VAIL — A Tucson-area school board ended a study session and then canceled a scheduled regular meeting after numerous parents protested the district's refusal to lift its COVID-19-related mask mandate.
After Arizona Gov. Doug Ducey on Aug. 19 lifted a statewide mask mandate for schools, the Vail Unified School District kept its mandate in place and the district planned to review its policies Tuesday.
An afternoon study session was underway when protesting parents, many not wearing masks, pushed their way into the board room.
Sheriff's deputies were summoned to help keep order but the board adjourned the study session and canceled the scheduled regular meeting.
---
Sunnyside celebrates 100 years as a district
Arizona Daily Star
The Sunnyside Unified School District celebrated 100 years as a district by embarking on a new tree planting initiative, the Arizona Daily Star reports.
The district plans to plant 100 trees throughout its campuses. The first trees of the initiative were planted at Sunnyside High School Thursday.
The district is the second largest in Tucson with over 14,000 students enrolled.
---
Kathy Hoffman announces bid for reelection
Arizona Republic
Arizona Superintendent of Public Instruction Kathy Hoffman announced this week that she will pursue a second term in her position, the Arizona Republic reports.
Democrat Hoffman said in a second term she will focus on addressing the effects of the COVID-19 pandmeic on schools, including tackling student learning losses.
---
UA ready to have all purchased renewable power in May
AZPM
Within a week, the University of Arizona can say 100% of its purchased energy is from renewable sources.
May 1 marks the start of an agreement with Tucson Electric Power to provide the UA with energy from a wind farm near Roswell, New Mexico and a solar-plus-storage system southeast of Tucson. Trevor Ledbetter, the director for the UA Office of Sustainability, said about 60% of the university's total energy will come from TEP.
The university uses enough energy to power about 22,000 average American homes, and Ledbetter estimates the energy that will be procured from this agreement will be similar to that needed to power about 13,000 homes.
---
Body-positive initiative grows at UA
AZPM
The coronavirus pandemic has aggravated concerns about body image.
COVID-19 disrupted fitness routines and caused some people to feel more pressure to lose weight or improve their appearance. University of Arizona nutritionist Lisa MacDonald says more students are getting involved in an on-campus initiative focused on self-esteem and positive body image. It includes a monthly discussion series called Courageous Conversations.
Guest speakers, teachers and students are all involved in the discussions. The talks are among the events and activities run by Body Positive Arizona at the UA's Campus Health Service.
---
UA taking COVID-19 vaccines on the road
AZPM
The state vaccine pod at the University of Arizona has administered close to 200,000 doses of the COVID-19 vaccine since mid-January.
As demand has slowed at the UA site, and across the state, the university is using its mobile health units to get vaccines into underserved areas.
The university's mobile clinic will be in Nogales, Arizona on Wednesday to vaccinate truck drivers who travel back and forth across the U.S.-Mexico border.
Vaccine disparity among ethnic groups is a continuing concern for state health officials.
---
Hurricane predictors forecast busy 2021 season
AZPM
A University of Arizona research group with a reputation for accurately predicting the number of hurricanes each year is out with its latest forecast. The team is expecting eight named hurricanes for the north Atlantic this season, with four of them ranging in strength from category 3 through 5.
UA atmospheric scientist Xubin Zeng says a pattern toward stronger storms is in place but more annual data must be collected before attributing increased hurricane action to climate change.
The group has accurately forecast hurricanes almost every year since it began its studies in 2014.
---
2 Private Schools In Sonora First To Partially Reopen
Fronteras Desk
Two private schools in neighboring Sonora are the first to partially reopen.
As a part of an effort to slowly and safely reopen schools, state health personnel were on hand this week at two Hermosillo private schools to oversee the return of a maximum of 150 students up to the third grade. Several more private schools are slated to join the first group soon, according to a release.
The effectiveness of safety measures will be closely monitored, according to a statement from Sonoran Health Secretary Enrique Clausen.
Public schools will not reopen until the relevant authorities authorize returns, and school staff are vaccinated, according to Clausen. Vaccinations of education employees are not slated to begin in Sonora until early May.