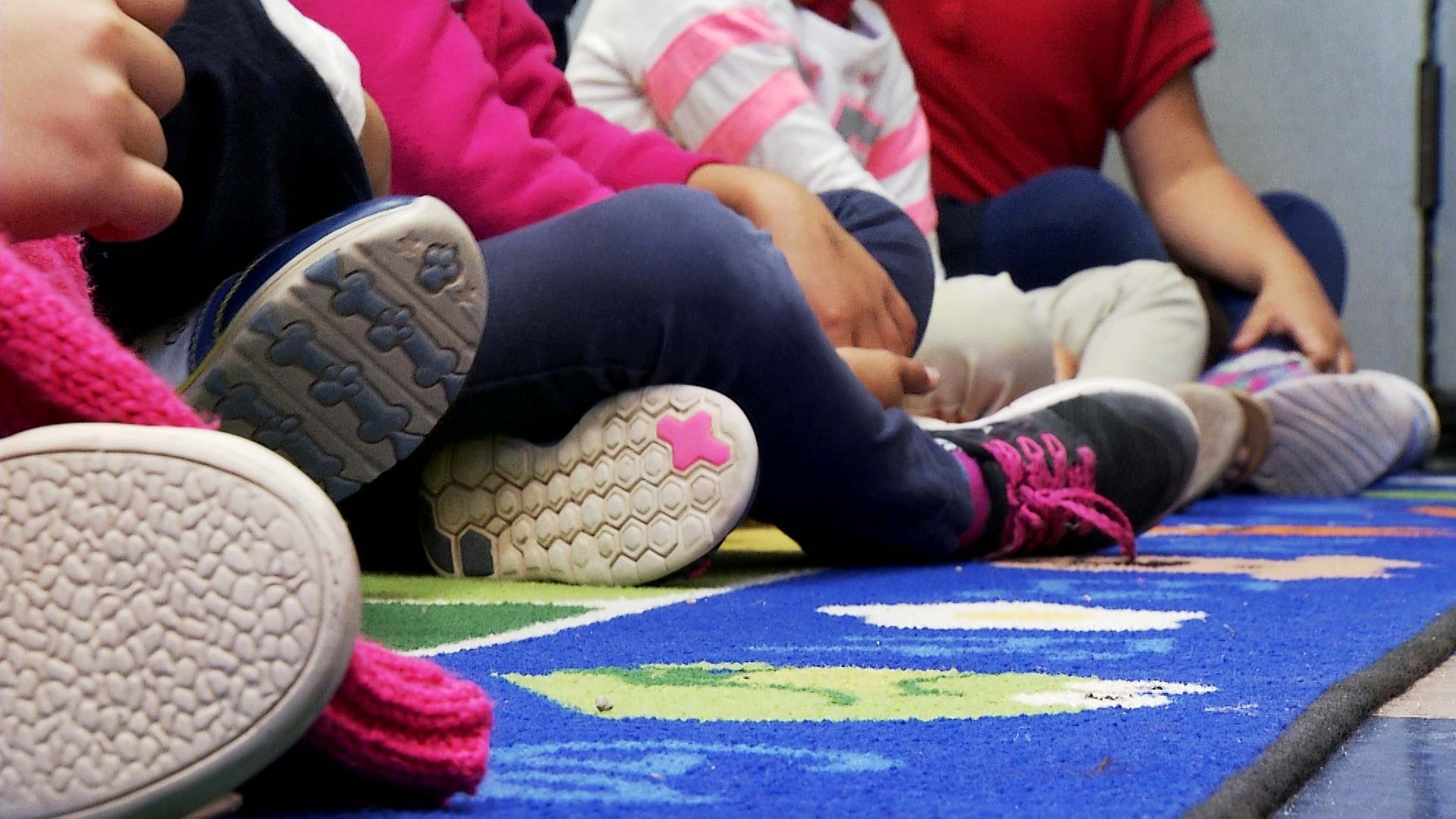 The shoes of children as they sit in a row inside a kindergarten classroom.
AZPM Staff
A bill making its way to the Arizona Senate has drawn controversy for the changes it would make to the teaching of politically-charged topics in school.
The the Unbiased Teaching Act would ban teaching topics related to racism, sexism, or other politically-charged issues without giving equal weight to both sides of the issue, the Associated Press reports. Teachers who do not comply face a $5,000 fine.
The bill advanced in the Arizona House of Representatives Thursday and is headed to the state Senate.
Arizona Superintendent of Public Instruction Kathy Hoffman took to Twitter to voice her disapproval of the bill.
Instead of thanking our teachers during teacher appreciation week, today #SB1532 passed through the House. This bill would fine teachers 10%+ of their salaries for attempting to teach an inclusive and accurate portrayal of our history.

— Kathy Hoffman (@kathyhoffman_az) May 5, 2021
Meanwhile at the University of Arizona, a new Asian Pacific American studies minor came to fruition after decades of students, teachers, and community members pushing for it.
---
Arizona bill banning 'biased' topics in schools advances
AP
PHOENIX — The Arizona House of Representatives has advanced a bill with a last-minute amendment that would ban racist, sexist, politicized or other controversial topics in schools and penalize teachers with fines.
Republican state Rep. Michelle Udall, who introduced the amendment Wednesday, said the newly amended bill is intended to ensure students are not taught that their race, ethnicity or sex determines their character.
Charter schools and state agencies would be prohibited under the Unbiased Teaching Act from discussing controversial issues in schools unless teachers give equal weight to divisive topics. Violations would result in $5,000 fines.
The bill will next head to the Senate.
---
New Asian Pacific American studies minor added to UA studies
AZPM
A decades-long goal is being realized at the University of Arizona. It is establishing a new minor in the field of Asian Pacific American studies.
The minor will look at immigrants and generations of their descendants from Asia and the Pacific Islands. More than 50 nationalities from the region are represented in the United States.
U of A Assistant Professor of Practice Brett Esaki notes students and faculty had pushed for the program for 30 years.
"This is in no way a recent development. It has been worked on for many decades," he said.
---
UA delivering mobile COVID-19 vaccines
AZPM
The University of Arizona is using mobile vaccine clinics throughout southern Arizona targeting groups that are less likely to get vaccinated.
The university is working with a number of groups including the Mexican consulate's office in Douglas.
Dr. Cecilia Rosales, Associate Dean in the Mel and Enid Zuckerman College of Public Health at the University of Arizona, said the university also held a mobile clinic in Nogales, Arizona. During that session, close to 200 truck drivers were vaccinated.
The mobile vaccine program will continue as the university shuts down its on-campus mass vaccination pod at the end of June.
---
Arizona's community colleges to offer limited 4-year degrees
AP
PHOENIX — Gov. Doug Ducey on Tuesday signed into law a bill that allows Arizona's community colleges to offer limited four-year college degrees.
Before this legislation, the community colleges have only offered two-year degree programs and professional certifications.
Arizona now joins 23 other states that allow community colleges to offer baccalaureate degrees under limited prescribed circumstances.
Senate Bill 1453 will take effect this fall and requires detailed internal and external processes, including becoming nationally accredited. The Maricopa Community Colleges plan to begin enrolling students in their baccalaureate degree programs as early as fall 2023.
---
Arizona's Adia Barnes to receive $5.85 million in new deal
AP
Arizona women's basketball coach Adia Barnes will receive $5.85 million in a five-year contract extension.
The terms of the extension must be approved by the Arizona Board of Regents. No changes were made to the incentive structure of the contract.
Barnes has turned Arizona from an also-ran in the Pac-12 into a national championship contender.
The Wildcats had the best season in program history in 2020-21, beating national powerhouse UConn in the Final Four to reach their first national championship game. Arizona lost to Pac-12 rival Stanford by one in the title game.
---
ASU professors say Arizona economy poised to recover jobs
AP
PHOENIX — Arizona State University forecasters say the state's economy is rebounding and poised in coming months to recover all the jobs lost in 2020 due to the pandemic recession.
In the words of ASU economics professor Dennis Hoffman, "the forecasts are clear — it's really onward and upward from here."
The Arizona Republic reports that Hoffman was among professors who spoke Thursday during a webinar for the Economic Club of Phoenix.
Lee McPheters, another economic professor, said continuing population gains and improving business conditions mean Arizona could gain about 117,000 net jobs this year and 89,000 next year. That would put the state's employment back at pre-pandemic levels.
---
Political Cartoonist, 'Casagrandes' Writer Joins ASU's School Of Transborder Studies As Artist-In-Residence
Fronteras Desk
An award-winning political cartoonist has joined Arizona State University's School of Transborder Studies as an artist-in-residence.
Lalo Alcaraz is the creator of the syndicated comic strip "La Cucaracha." He also writes for TV and film, including on Nickelodeon's "The Loud House" and "The Casagrandes."
This is his second university affiliation; he previously taught at Otis College of Art and Design in L.A., where he lives.
The Show spoke with Alcaraz about how this job at ASU appealed to him.
---
Cardinals create scholarship to honor Black trailblazer
AP
TEMPE — The Arizona Cardinals have created the Adele Harris Scholarship to honor the 50th anniversary of Harris becoming the first Black female to work in the front office of an NFL franchise.
The $10,000 scholarship will be given each year to a graduating high school student in Arizona who is pursuing a career in sports.
Harris spent 26 years with the Cardinals before retiring in 2001. The Chicago native was raised in St. Louis and joined the franchise in 1971 as an assistant in the public relations department.