The Arizona Board of Regents wants any state funding cuts made this year to the three public universities restored when the budget picture improves.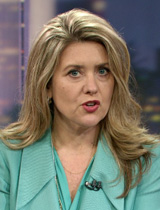 Eileen Klein, president of the Arizona Board of Regents. (PHOTO: AZPM Staff)
The regents met at the University of Arizona in Tucson Thursday and came to what a news release called "a unified position that reductions should be limited in size and duration."
The board was responding to Gov. Doug Ducey's budget proposal, released two weeks ago, in which he called for cuts of $77.5 million in funding to the UA, Arizona State University and Northern Arizona University, proportioned by enrollment. That amounts to a 10 percent cut in state funding of the universities, but even bigger cuts might be in the offing, regents' President Eileen Klein told the board.
"There is a real potential that the Legislature's budget proposal could include cuts to Arizona's public universities beyond what Gov. Ducey proposed," Klein said. "The trend of defunding our universities goes against the state's goals for economic growth and creating opportunity for all Arizonans."
State funding to the universities was cut between 2007 and 2012 by 50 percent per student, and the regents approved tuition increases of nearly 100 percent during that time to make up for the cuts.
On Thursday, the regents adopted a plan calling on the Legislature to put "triggers in the state budget that enable funding for the universities to increase as soon as the state's budget position improves."
It also asked that it and the presidents of the universities be allowed to manage how the cuts will be made rather than doing them proportionally by enrollment.
"It is time to tackle head-on the real issue, which is creating a sustainable model for our state's public higher education system," Klein said. "We look forward to working with legislators to develop this model that enables the board to stay true to its mission of access and affordability for all Arizona residents and to allow our university system to be the catalyst for strong economic growth in our state."
Klein told the board that relations with the state are "tenuous" and must be improved so the university system is heard.