Action at the 2014 Tucson Mexican Baseball Festival.

Courtesy of Mexican Baseball Fiesta, LLC
Five teams from Mexico's top baseball league will take part in this year's Mexican Baseball Fiesta, taking place at Kino Sports Complex Thursday through Sunday.
The Naranjeros de Hermosillo, Yaquis de Obregón, Águilas de Mexicali, Tomateros de Culiacán, and Cañeros de Los Mochis will take part in the event. A team of major league prospects round out the field.
The event attempts to bring the environment of the games of Mexico's top league to Tucson.
"It's completely different [from American baseball]," said Francisco Gamez, founder of the Mexican Baseball Fiesta. "So that's why we invite the people who haven't been to these games to come up and see the games. Don't matter if they don't even like baseball, just to see the fiesta itself."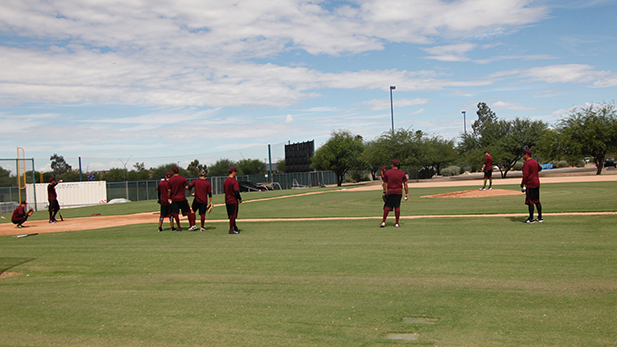 The Tomateros de Culiacán practice the day before the Mexican Baseball Fiesta gets underway.

Zac Ziegler
Gamez said his organization brought more than just the teams north from Mexico. Food vendors, mascots, bands, DJs and public address announcers are all making the trip to Tucson, too.
Each evening features a doubleheader and music acts. The event starts at 5:30 p.m. Thursday, Friday and Saturday. Sunday's festivities start at 3:00 p.m.