A University of Arizona assistant men's basketball coach has been indicted by the FBI on accusations of bribery.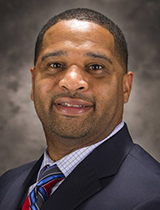 Former University of Arizona Men's Basketball assistant coach Emmanuel "Book" Richardson. (PHOTO: UA Athletics)
A federal indictment released Tuesday morning alleges Emmanuel "Book" Richardson was part of a bribery conspiracy in which he and others were paid to steer athletes toward a financial adviser and business manager.
Acting United States Attorney for the Southern District of New York Joon Kim said the manager and adviser had both been accused of misuse of professional athletes' money in the past.
"While pushing these professionals, the bribed coaches showed little regard for the player's well-being," Kim said. "They ignored red flags, seeing only the green of the cash bribes flowing their way."
The University of Arizona Athletics Department responded to the allegations in a written statement emailed to reporters from Jeremy Sharpe, associate athletics director.
The statement said the department learned of the accusations Tuesday.
"We have been working in conjunction with the University, and have confirmed that Richardson has been suspended effective immediately. We will cooperate fully with authorities as they move through their investigation," the statement said. "The behavior that Richardson is accused of is completely unacceptable and does not reflect the principles of this athletics department."