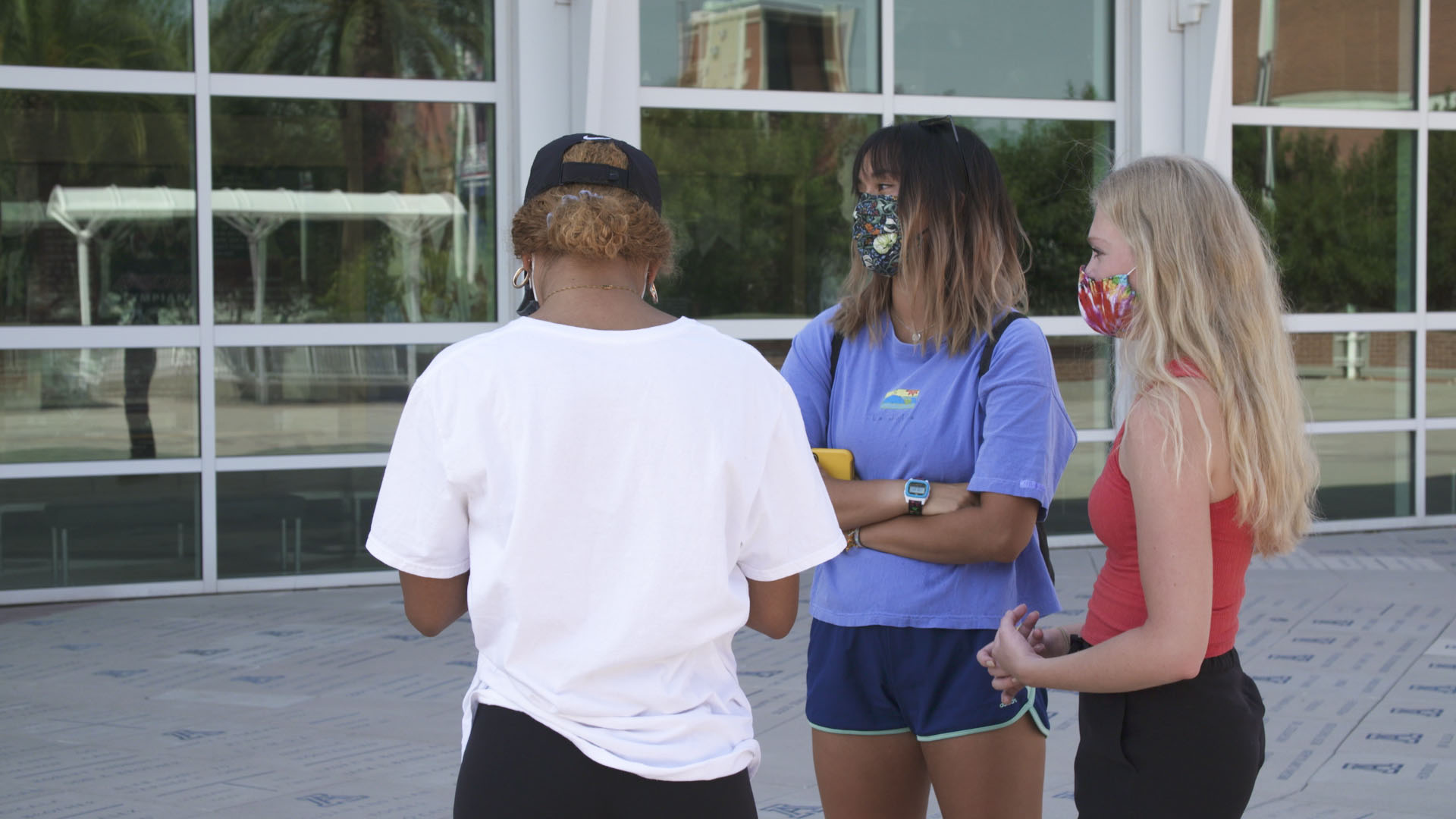 University of Arizona students wearing masks on campus.
AZPM
Pima County's stay-at-home request for University of Arizona students living near campus expires Sept. 29.

University officials said the next steps will be determined by the numbers.
"If case numbers begin to rise again there may be a need to reinstate this self-imposed voluntary quarantine. But if the cases skyrocket again, then working with the county health department more legal quarantine issues may need to be enacted," said Robert Robbins, University of Arizona President.
It appears the stay-at-home request made a difference. Last week, the university reported a total of 261 cases of COVID-19 among students and employees. Before the request, the university reported that many cases in a single day.

Testing, however, was also down last week. University officials have said the reason for the drop could be tied to the stay-at-home request or possible fear from students that if they get a positive test they will be forced to quarantine.
Robbins said he is happy with the drop in positive tests but is he is also concerned that students are still not being careful.
"As I go around late at night and just kind of cruise around I continue to see not as large of groups as I was seeing maybe two weeks ago but clearly there are people, certainly Thursday, Friday, Saturday night who are out and I don't see a lot of face covering," said Robbins.
University officials also expressed concern about the mixed messages going to students. They have spent weeks cajoling and pleading with students to wear masks and not gather in large groups. At the end of this week, downtown Tucson will largely reopen. The area is popular with students who frequent many of the bars, restaurants, and night clubs in the area.
"My only concern is that everybody else is not concerned enough," Robbins said.
The university team that responds to large groups broke up one party of more than 100 people over the weekend. The team responded to five fewer parties than the week before.
Students at those parties are subject to discipline from the university and the county.
Twenty-seven students have been sanctioned with either interim suspensions or expulsions by the Dean of Students so far, according to the university. Those sanctions, however, can be appealed.
The suspensions or explosions are considered interim until all appeals are finalized. Any student who is suspended or expelled from the Univeristy of Arizona cannot attend Arizona State University or Northern Arizona University according to the Student Code of Conduct published by the Arizona Board of Regents.
Other sanctions the university can put on students include monetary sanctions up to $500 depending on the specific violation of the Student Code of Conduct or required attendance at a Personal Responsibility Workshop. All of those disciplinary measures are handled by the Dean of Students office.
Pima County health officials said that the recent spike in area cases is tied directly to the University of Arizona.