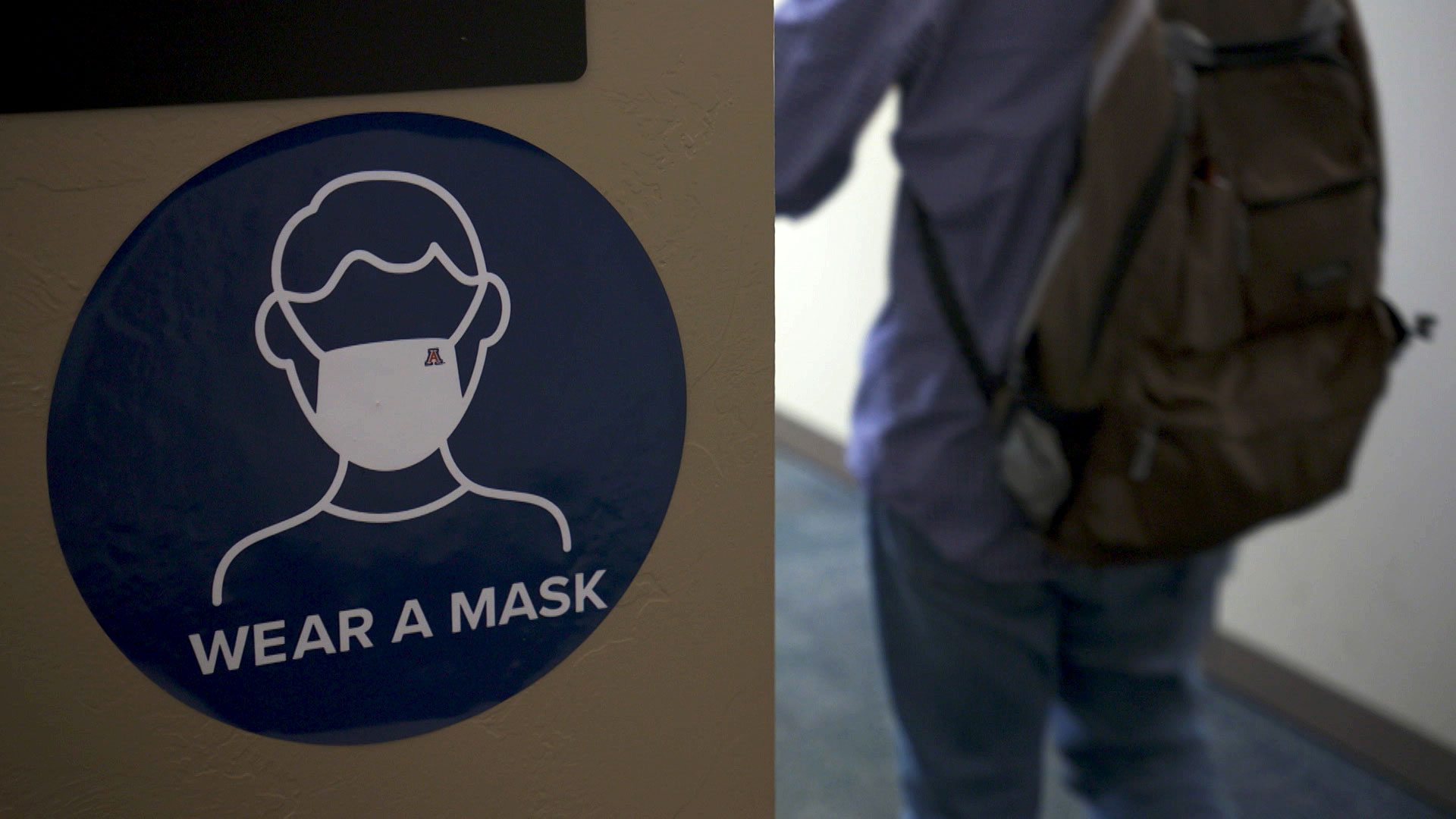 Signage inside a building at the University of Arizona promotes mask wearing on campus, July 2020.
Robert Lindberg/AZPM Staff
The University of Arizona will allow classes of 30 or fewer people to meet in-person beginning Monday, Oct. 12, according to University of Arizona President Robert Robbins.
The move to what's known as Phase Two comes as COVID-19 cases have started dropping on the UA campus. Robbins said students attending classes are not the problem.
"We've recorded no instances in a classroom or a laboratory setting," Robbins explained.
About 6,200 students have been attending essential, in-person classes during Phase One. Robbins says going to Phase Two will bring about 2,500 more students on campus.
"The students are very, very eager to get back to more in person instruction. That would be about 25 hundred additional students who could take advantage of this limited courses with 30 or fewer students," Robbins said
He is still concerned about the number of parties tied to the University. The university CART team, which is called to parties where people are not complying with COVID-19 precautions, responded to 14 events over the weekend, according to university officials. One of those parties had more than 100 people, according to Robbins.
"This is just irresponsible and reckless, and we've got to stop this. This is where the spread of this virus is occurring," said Robbins.
On campus COVID-19 testing was below 1,000 per day for much of the last two weeks, but the numbers began to rise at the end of last week.
On September 25, UA began randomly testing students who live in dorms for the virus. The random testing is now being expanded to off-campus students and employees, according to Holly Jensen, University of Arizona Vice President for Communications.
University official said they have the capacity to test close to 10,000 people a week.